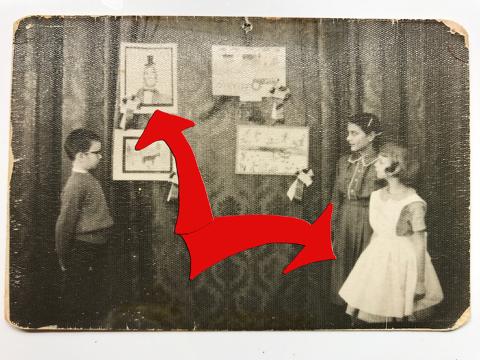 My first encounter into the world of art.
A blue ribbon for my drawing of Abraham Lincoln.
BIO

I spent my early childhood growing up among the rolling hills of south eastern Pennsylvania, in the Lancaster county countryside. I had my first encounter with my love of creating art, when I won a contest for a crayon drawing of Abraham Lincoln.

I later moved with my family to the eastern shores of Lake Michigan, where I eventually met my husband. We were blessed with twin daughters and settled in the small art community of Saugatuck, Michigan. Although my days were primarily filled with the care of our twins, I spent what free time I had creating art with graphite on paper, rapidograph pen, and painting floral designs with acrylics, on furniture for the locals.

In 1994 my husbands employment offered us the opportunity of relocating to Monterrey, Mexico. We saw this as a great adventure and challenge for our family. I remember thinking that I could learn to watercolor and spend my time "painting my days away". Although that dream took a few years longer than I had anticipated, I eventually enrolled in watercolor classes with some well known local artists.

I immediately fell in love with the rich colors and traditions of the Mexican culture and could hardly wait to capture those expressions on paper. One focus of my paintings became the unique flora and fauna found around the Sierra Madre mountains and the influence of the Spanish architecture in the small towns. I loved the juxtaposition of the bodacious blues, radiant reds and almost screaming yellows that could only be found in these small, quaint villages. This led me to paint in my well known unique style of combining vibrant colors with puzzle like composition.

Another of my ongoing series of paintings is titled "The Talavera Twins and their Fiesta Friends". The familiar handcrafted dolls (Las Muñecas) offered by vendors and usually seen lined up on a serape along many of the streets, became a personal connection for me and my twin daughters. With each colorful brush stroke I strive to show the individual personalities of these charismatic characters.

As an artist I work primarily in watercolors but in the past few years I have also challenged my creativity with what I call my "BIG ART", canvases. I paint on large canvases, first adding a thick textured medium and using thinned out acrylics. I have also been enjoying a collaboration between my mom and I. She is a talented quilter, and with my pure passion for painting, I create a design on fabric and she quilts it.

I have exhibited my art work at various venues throughout Texas, Michigan, New York and Mexico and my work has been purchased as originals, reproductions and commissioned pieces for various private collections in the United States and internationally.

Traveling and studying in such diverse places as Ecuador, France, England and of course, Mexico, each time returning to my studio newly inspired with exciting subject matter. I never seem to run out of inspiration for new paintings in my southern surroundings.