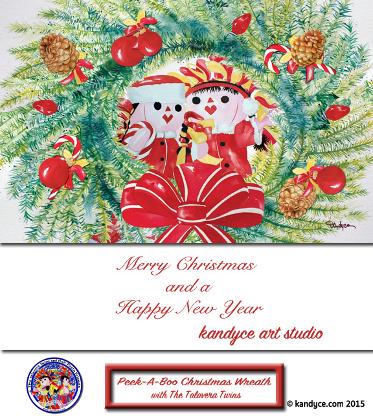 Introducing
(Trumpets blowing)
the 2015
Talavera Twins
Christmas Card
Design.
You can see all the Talavera Twins Christmas Card designs by clicking on the Christmas Card Collection link on the left.
Peekaboo Christmas Wreath
will be available for purchase in 2016.
Meet Sofia and Maria-The Talavera Twins and their Fiesta Friends. They are twins. Join them in their adventures as they travel through different cultures and learn to adapt and embrace what other lifestyles have to offer.
Click here to visit The Talavera Twins page.
**Special Note**
All images are copywrighted and are not available for use or borrowing because they are on the internet. ©.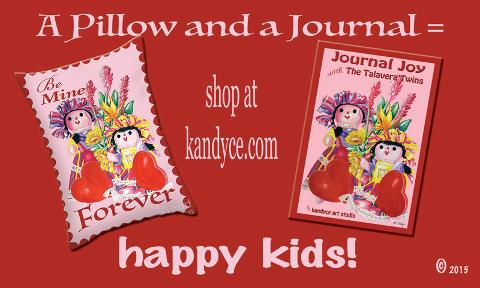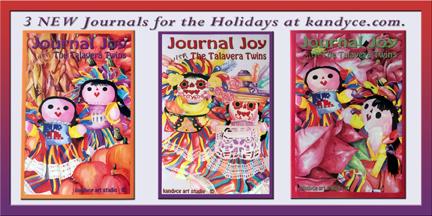 Announcement
------------------------------
Now available on Amazon.
My first children's book has been published.
Another Great Adventure of The Talavera Twins: Save A Penny
This child size book is 6 x 9" and 24 pages of beautifully illustrated pictures.
The perfect gift idea for the young reader.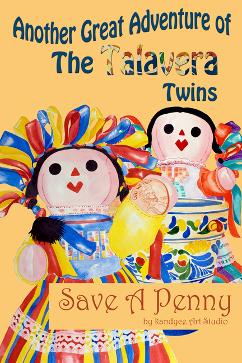 Click on the Front Cover picture to purchase the book from Amazon.
Now also available at Barnes & Noble.
Follow these two little charismatic characters through every day life adventures. Sofia and Maria are twin sisters and they love to share their daily antics. Known as The Talavera Twins, Sofia loves the color purple and wearing hats and Maria loves the color yellow and having tea parties. We hope you will enjoy learning about one of "life's little lessons" by reading Save A Penny and stay tuned for the next lesson in the series of books titled, Another Great Adventure of The Talavera Twins.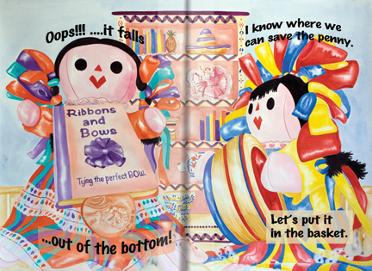 Inside
sample
page.
Bright,
bold
illustrations.
JOURNALS with
The Talavera Twins on the front cover.
Click on any image below to go to
the journals on Amazon.

Also available from Barnes & Noble.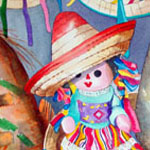 I am Sofia.
I love to wear hats!
Yo soy Sofía.
Me encanta usar sombreros!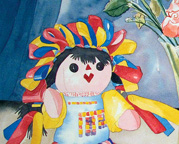 I am Maria.

I love the color YELLOW!
Yo soy María.
Me encanta el color amarillo!
The History of The Talavera Twins

Twenty years ago I moved to Monterrery, Mexico with my husband and twin daughters. As an artist/painter, I was thrilled with the new, rich surroundings. The painting possibilities were endless.
My girls grew up there and eventually moved to college in central Texas. I would fill my days with painting because I surely didn't need to do anymore shopping!
Once in a while I would have a "pause between projects" so I started posing and painting Las Muñecas(the dolls). Soon they began to remind me of my girls, so they grew into their personalities and characteristics and became The Talavera Twins.
Sofia, loves the color purple and wearing hats. Maria enjoys having tea parties and loves the color yellow. They are a couple of charismatic characters who enjoy spreading cheer where ever they travel.
More BIG NEWS for the Talavera Twins.

They are featured on the front cover of
RGV + Beyond Arts and More Magazine
....be sure to check out the great article about the artist on page 26-Kandyce-Painting Puzzles. Click on the link below to check it out!

Help me out by spreading the word and giving me a "click".
Follow along on Pinterest by clicking this icon.

© 2015- All rights reserved. No reproduction permitted.
<a href='http://fineartamerica.com/art/paintings/mexican/all' style='font: 10pt arial; text-decoration: underline;'>mexican paintings</a>